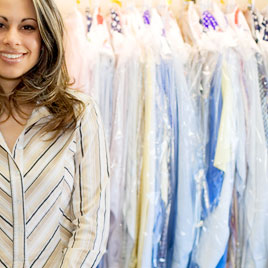 Dry Cleaning
Our state of the art equipment ensures that all our customers receive the quality they deserve at a fraction of the replacement cost.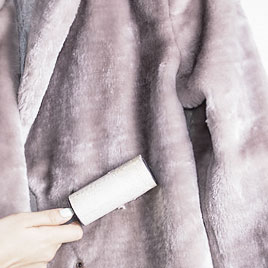 Leathers & Furs
Cleaning furs, leathers, and suedes to protect our customer's investment in their garments is one of our top concerns. We take precautions and use special processes to deliver optimum cleaning that virtually eliminates shrinkage, loss of color and fabric distortion.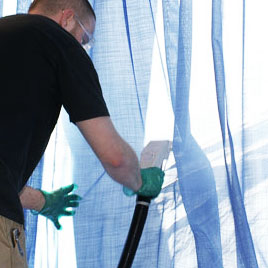 Draperies
Our cleaning and finishing process can brighten colors and restore textures for any window treatment. We guarantee drapes will not shrink or lose their shape, and we offer a convenient take down and re-hang service.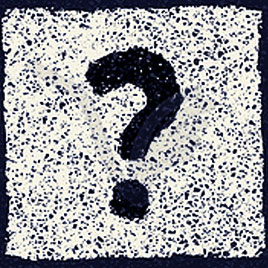 Can you eliminate strong odors such as Mold and Smoke from Clothes?
We can work directly with the customer or your insurance agent so you don't have to.
Dry Cleaning
Drycleaning is the use of solvents to remove soil and stains from fabric. It is called "drycleaning" because the solvents contain little or no water and do not penetrate the fibers as water does. Drycleaning solvent is not harmful to any fabric, and drycleaning is the only safe method for cleaning many types of garments.
Natural fibers such as wools and silks will shrink and perhaps lose their color when washed in water, but will dryclean beautifully. Cottons and linens, unless they are preshrunk in manufacture, will also shrink in home laundering. Drycleaning is particularly effective in removing greasy, oily stains from synthetic fibers, which have an affinity for oils.
But the professional drycleaner provides more than just drycleaning. This service also includes professional removal of problem stains that will not come out with simple drycleaning. It also includes professional pressing, careful packaging, and inspections at every step along the way to make sure that all stains have been attended to and the item has been properly pressed and finished.
Dry Clean Care lables










We offer dry cleaning, laundering and professional cleaning services
for all of your clothing and household items in the event of:

We use several methods to process our restoration projects to ensure the best quality, repeating our restoration processes in order to meet our high standards.
We can work directly with the customer or your insurance agent so you don't have to.
Our service features include:

Our guarantee is simple: If the garment doesn't clean, it's off the bill...regardless of how much time and effort we have spent trying to restore it.
DryCleanNY team specializes in dry cleaning and laundry services for victims of disasters. Our team is dedicated to restoring any and all personal items if possible; helping to reclaim what you thought was lost. By working to restore your belongings, we afford you the extra time you need. DryCleanNY team is dedicated to quality customer service, providing you and your family with peace of mind during this difficult time.